PRESS RELEASE: ON October 2, 2017
Glencoe Memorial Arena Renovation
GLENCOE, ON, October 2, 2017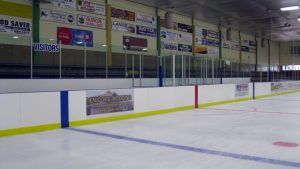 "The Glencoe Memorial Arena, home of the Southwest Bullets, Glencoe Skating Club and Glencoe Fusion Synchronized Skating, is excited to announce the replacement of our arena rink boards.
This project is funded in part by the Government of Canada.
As a community hub, this arena and the many who make use of it will benefit from our safe new rink board system.
The project began with the removal or the existing boards earlier this spring and was near completion with the installation of the new boards just in time to open the skating season on the first day of October.
The total project will cost approximately $200,000, with one third of this cost covered by the Government of Canada's Community Infrastructure Program.
Sound Barriers was happy to work with community of Glencoe Ontario to update this arena.
The Sound Barriers team provided the removal services for the old arena boards to prepare for the installation of the new prefabricated aluminium dasher board system. The dasher boards included player / penalty boxes, electric machine lift gate and ad board kits. Clear mono-filament spectator netting was also provided to protect the public viewing areas.