BUILT TO WITHSTAND ANY TEST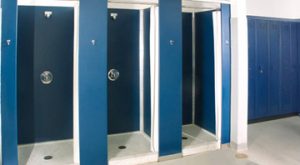 Scranton Products manufactures shower stalls and dressing compartments that are designed to withstand abuse and use in public shower areas.
Scranton Products materials resist penetration by all forms of water, including steam and mildew. odors and even soap cannot penetrate the material even during extreme temperature changes.
Our corrosion resistant solid plastic panels are the best choice for sanitary, clean environments at hospitals, schools, health clubs, military facilities, camp grounds, etc.
It's impact resistant and guaranteed against breakage, corrosion and delamination for 25 years.
WHY PEOPLE CHOOSE SCRANTON PRODUCTS SHOWER STALLS
•Constructed from premium 1″ solid plastic
•Homogenous color throughout